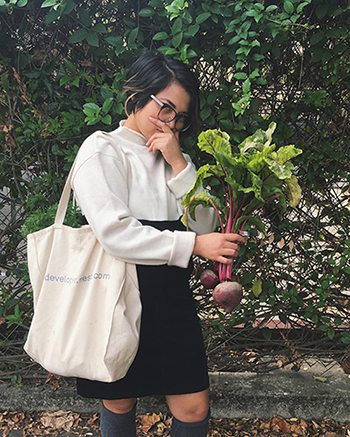 Visual designer –
Lettering artist –
Former Navy brat –
Kimberly Gail is a designer and lettering artist. She nerds out about typography, lettering, layout design, and user experience. She believes in solving problems and make things better with intellect, intuition, and heart. In her work, she strives to create simple and inclusive design solutions that are accessible to all people.
Growing up as a Navy brat, she attributes 'home' to more than once place. She was born with the travel bug, and has yet to shake it off. Ask her about all the wonderful places she grew up in and where she's been!
Off duty, she's either rushing off to catch a live show 🤟, dropping the sickest beets at her local farmer's market (see photo ☝️), practicing her French 🇫🇷, lifting weights eating dollar tacos 🌮 at Jalapeño's, concocting a pitcher of sangria 🍷, or catching up on her favorite TV shows 📺.
Thanks for reading!
Currently open to freelance gigs OR an impactful role within a cool team. 😎